About WNYF Magazine
WNYF,With New York Firefighters, is the official training publication of the New York City Fire Department and is written for fire operations and fire safety services professionals.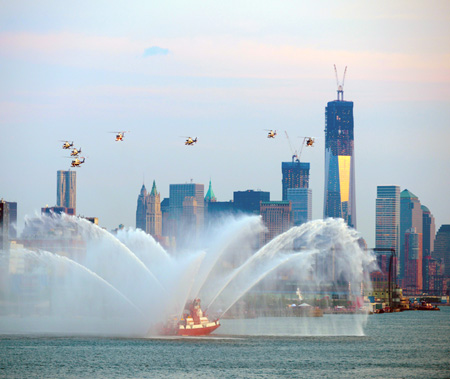 Marine 1′s Three Forty Three makes its way up the Hudson River, in preparation for the 2012 Macy's Fourth of July fireworks display. NYPD helicopters hover overhead, taking part in the celebration.
photo by Stephen "Butch" Moran
WNYF 2nd/2013 issue has been distributed.
Featured articles and the authors in the 2nd/2013 issue, which focuses on Hurricane Sandy, include:
An Extraordinary FDNY Response, by Chief of Department Edward S. Kilduff
Hurricane Sandy: An Operational Overview, by Chief of Operations James E. Esposito
Preparation for Hurricane Sandy, by Assistant Chief Ronald R. Spadafora
Queens Fires and Floods, by Deputy Assistant Robert R. Maynes
A Command-Level Critique of the West 57th Street Crane Collapse, by Assistant Chief John Sudnik
Facade Collapse in Chelsea, by Battalion Chief Michael Fahy
Hurricane Sandy Sparks Conflagration in Breezy Point, by Assistant Chief Joseph W. Pfeifer
Bureau of Communications Timeline During Hurricane Sandy, by Assistant Chief Robert J. Boyce, Jr.
Special Operations Command Response to Hurricane Sandy, by Assistant Chief William C. Seelig
FDNY Assists with Odd Job in the PATH Tubes, by Battalion Chief Joseph R. Downey
Company Officers Commanding Multiple-Alarm Fires, by Lieutenant Kevin J. O'Connor
A Tribute to the 14, by Firefighter James Mangels
How the Bureau of Fire Prevention Facilitated Re-Occupancy, by Assistant Chief Thomas M. Jensen
FDNY All Hazard IMT: Missions, Opportunities and Lessons Learned Through the Eyes of the Lead Public Information Officer, by Firefighter Sean Johnson
Operation Gut and Pump Meets the ICS in Breezy Point, Queens, by Firefighter Philip J. Pillet
A Personal View of Operation Gut and Pump, by Firefighter Kevin Neafsey
Safety First column, Operating Safely During Hurricane Sandy, by Assistant Chief Stephen A. Raynis
2013 FDNY Medal Day Recipients
Here are some of the articles we're working on for the 3rd/2013 issue of WNYF:
The Construction Site Fire Safety Manager, by Firefighter Hank Molle (retired)
Odd Job–Child Caught in a Roll-Down Gate, by Battalion Chief Richard Portello
Gasoline-Powered Tools and Ethanol-Blended Gasoline: What You Need to Know, by Firefighter William Staudt
Role of the Incident Management Team During Hurricane Sandy, by Battalion Chief James Kane and Captain Steven Berube
Fire Prevention Matters column, FDNY Operations at Rooftop Protective Barriers, by Lieutenant Al Trinidad (retired)
Casual Factors in the 62 Watts Street Fire: Opportunities to Improve Firefighting Knowledge and Tactics, Part II, by Battalion Chief Edward McDonald (retired) and Daniel Melia
Remember the Fallen: 9/11 Tribute Center, by Deputy Chief Richard Fuerch (retired)
Tricks of the Trade column, Engine Operations, by Captain Michael Doda and Lieutenant Thomas McBreen
2:1 Mechanical Advantage, by Captain Andrew Serra
---
---
The FDNY Foundation is the official not-for-profit of the FDNY established to promote Fire Safety in New York City and the professional development, training, and education of members of the FDNY.
Donate Now
---